Adina Reay have always been one of those "goal" brands for me. They're a British full bust brand who design sizes 28DD to 36G, a pretty impressive selection for a very new brand in the fuller bust community. Their ethos fits very closely with our own in that they have a focus on fit and making sure that women are both comfortable in their lingerie as well as getting what they want out of it. They understand that many people, even those who are experts in the industry, often choose the wrong size because the lingerie that does fit them doesn't reflect how they see themselves. And Adina Reay want to do something about that!
The goal of the company was to design bras in DD+ sizes that don't need to look different to lingerie designed for smaller sizes. I'm sure anyone who's done a bit of research into DD+ lingerie will know that it's often cost-prohibitive for new brands to design for these sizes, and their plan to challenge the stereotype of the market by using structurally strong fabrics and expert seam placements to provide the best support possible alongside Leaver's lace, embroidery, tulle and silk satin for that "smaller lingerie" for delicate intimates. Their lingerie represents luxury in larger sizes.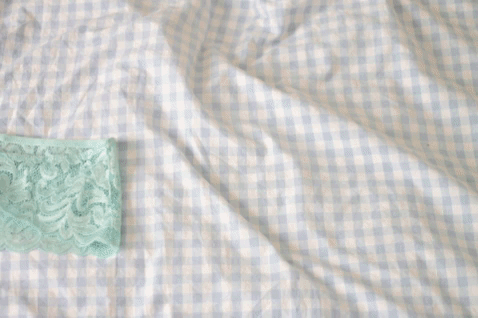 (I made a GIF!)
They came onto my radar when they launched in early 2015 and I got the chance to try their Fran bra on a rare trip to London in Selfridges about a year later. The smallest band size I could try then was a 30, so I grabbed that, but unfortunately it wasn't a great fit, despite the wonderful design. As a result, I've waited a long time to get my first proper try of Adina Reay, and I wasn't disappointed. Read on!
I was sent the Pru Plunge Bra in duck egg blue and the Pru Shorts, available to buy at Adina Reay for £130 and £60 respectively. You can also shop the Pru below, as well as in other shades like ballet pink and a gorgeous autumnal burgundy:

Shape & Appearance
The Pru bra is a half-padded shape which is uncommon in British lingerie brands, more commonly found in Polish bras. The lower part of the cup is padded and covered in silk satin, both inside and out – in fact, the inside of the bra is SO well designed with all the seams enclosed that I've put it on inside out and been confused about why I couldn't fasten it! It's unusual to see the interior of a cup lined in the same silk as the exterior and is a mark of how well designed the bra is for me. The silk is darted in the lower part of the cup on the exterior (but seamed on the interior), then has a side sling part that joins the strap at the front. The upper part of the cup is made out of a pretty scalloped edge lace that is separated into two parts with a centre seam. Interestingly on my shape, where the seams join in the lace, the cup almost looks like it has a more "pointed" edge than the rounded look on the model – I really like this look!
The bra is "bandless" at the front meaning that the gore is a completely separate piece. It's a pretty low plunge for a DD+ bra, and the lack of a band at the front is also uncommon in DD+ sizes, really appealing to that smaller lingerie look that Adina Reay aim for.
To give even more of a luxe feel, the hardware on the bra is all gold and dainty and the straps are not thick and bulky – instead they're made of the same silk as the main body of the bra. Because of this, the straps are only half-way adjustable at the back. The bra fastens with 3 sets of 2 rows of hooks and eyes, rather than the 3×3 you see in most full bust bras.
And can we talk about the colour for a quick minute please? I've claimed a bra to be my "Cinderella bra" before, but I think this one has stepped up and stolen that title. I can see it worn with with a tiara and a pair of glass slippers (despite the fact that I'm holding a red rose – I don't have a Belle bra yet!). On top of that, it matches my polaroid camera perfectly! Duck egg blue is essentially the shade of my life – I want to decorate everything in duck egg blue, sage grey or soft grey – and I'm excited to wear this when we go to Disney for our honeymoon later in the year! It reminds me of sunny days in spring and summer, a soft nostalgic shade, and with the combination of luxurious fabrics, it becomes regal and
I was a little torn between the shorts and briefs, but ultimately decided that the shorts looked like they would be more comfortable for normal wear. They feature the same silk as the bra on the main body of the briefs, with a cotton lined gusset, and the same scalloped lace that is narrower where it joins at the centre front then widens to cover most of the behind at the back.
Size, fit & comfort
I was lucky when choosing this set that Wen, who is a similar size to me, had already reviewed it, but in a beautiful grass green shade. Based on her recommendations, I actually chose a size down from my usual in the cup but stuck with the 28 band – because their cups only go up to a G, it meant I either needed to size down in the cup or sister size up to a 30G. The 28G is a good fit for me, but not absolutely perfect.
The band on the Pru is very stretchy in the 28G and fits me closer to a large 30 band, maybe even a 32. Char actually tried it on (for band sizing, not cup!) and found the band to be too big on her 30D bust too. Because of this, I'm glad I didn't sister size into a 30G as the band would have been far too big. As it is, this is wearable with the hooks fastened on the tightest option.
The cups are definitely interesting ones in terms of fit! At first glance, they fit well – everything is covered, there's no spillage or gaping, and the lace lies flat against the top of my breast tissue. A closer look reveals that I do have a small amount of "folding" at the bottom of the cup. It's not the end of the world by any stretch of the imagination – as is obvious by the fact that I'm currently wearing this bra every few days, I love it that much! – but I think it's because the lower part of the cup is ever slightly too shallow for my quite projected shape. I wonder if a 28GG might rectify this problem, but the largest option on a 28 band is the G. The upper part of the cup does allow for more fluctuation in sizing though and works beautifully for my fuller on top shape.
The briefs are very comfortable and fit very well around my hips. I find them to be a really flattering shape on my hips that are substantially larger than my waist. The silk is a tiny bit baggy in the back though, so I think if I were to get another pair of Adina Reay briefs, I would size down to a small rather than the medium I'm wearing here.
Overall, I'm absolutely enamoured with this set and Adina Reay as a brand. The tiny bit of folding I get in the cup is barely a minor issue for me as it otherwise fits well and is so beautiful. I've had my eyes on the Ava body for a really long time, so I'm saving my pennies for that one day!
And make sure to check out these other reviews of the Adina Reay Pru bra for more information on how it fits them:
Comic Girls Need Bras (30G)
The Lingerie Addict (32F)